FAM Aluminium produces Bi Folding Doors with a Slim Aluminium profile that gives strength and security. Fold and Slide Panel; back, left or right and open expansive, not blocked, access to the terrace, park, or outdoor.
Our doors offer premium construction of your home, visual elegance, and high-end functions and form that you want for your home or space. We add value and beauty to your space.
Along with modernizing your home, FAM's bi-fold doors give a sense of more space to your home. One can gain control of the environment of his home and can enjoy the panoramic view from home.
Customization:
These Bi Folding Doors are customized to fit your project and budget. We design & manufacture these doors with high-grade Aluminium extrusion profiles to fit the specification of your project.
For internal use; these doors can determine a low threshold or a rebate path so level two floors can remain constant. The Aluminium folding door has a low threshold which can be hidden on the floor.
Features of Bi-Folding Doors
Dust, Noise, and Weather Resistant
A wide range of powder coat colors
Outwards or inwards opening
Adjustable jambs technology
Reduced sightlines
Fabricated using mitered corners
Width of Frame : 58mm
Depth of Frame : 74mm
Max o/a height (per sash): 3000mm
Max o/a width (per sash): 800 mm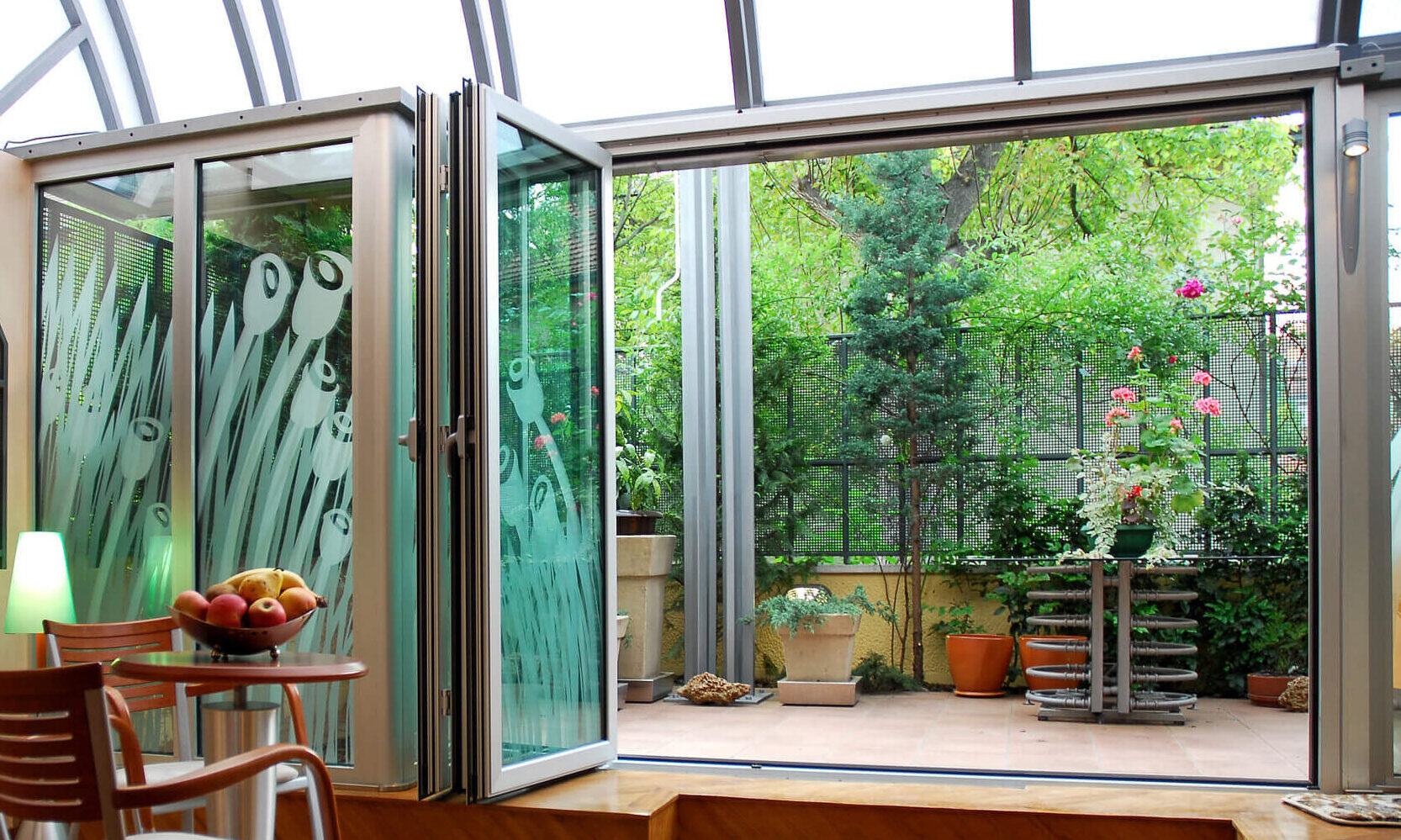 All style Bi-Folding doors take a lot less room than standard doors, without the need to focus on the supporting walls. The general door setting can be seen on the right. Bi folding doors can be as high as 3 meters and have a maximum panel width of 800 mm.
Float glass: Available thickness 4mm, 6mm, 8mm, 10mm, 12mm.

Reflective: Available thickness 5mm & 6mm, etc.

Tinted: Available thickness 5mm & 6mm, etc.

Obscured: Available thickness 4mm, 5mm & 6mm, etc.

Laminated Safety glass: Available thickness 4mm+0.38 PVB+4mm, 5mm+0.38 PVB+5mm, 6mm+0.38 PVB+6mm, 6mm+0.76 PVB+6mm, etc. 

Tempered: 4mm, 6mm, 8mm, 10mm, 12mm, etc.

Insulated: Available air spacer thickness 4mm, 6mm, 8mm, 10mm & 12mm, etc.